Cancer zodiac sign
Cancer zodiac sign description. Profile and features of the Cancer.
Cancer zodiac sign description and personality
Cancer love strongly and when they attach strongly to something, it stays a whole life. They can be very cruel enemies. Sidestep the obstacles, instead of overcoming them. Master to a perfection the art to resist in a passive manner. They can be manipulated by attention, but if you apply force, they become steady. The Cancer zodiac sign has a great imagination.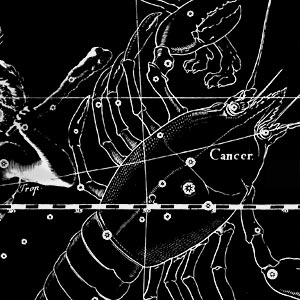 Cancer zodiac sign profile
Sun is in Cancer: from June 22 to July 22
Zodiac symbol: Crab
Constellation: Cancer
Zodiac element: water
Zodiac quality: cardinal
Domicile: Moon
Detriment: Saturn
Exaltation: Jupiter and Neptune
Fall: Mars
Colors: white, gray and sea green
Numbers: 1, 2, 7, 18
Gems: moonstone, emerald
Day: Monday
Metal: silver
Crucial years: from the 8th through the 7 (8, 15, 22 ...)
Motto: "I feel", "I wonder"
Fateful mission: To develop and mature. To develop psychology in themselves. Not to embezzle. To understand primarily their often confused personality. To learn to accept people.
Country: South Korea, Scotland, Netherlands, New Zealand
Loves: home, rivers, lakes and above all, sea, good manners, the chance to peep in the life of the others
Hates: cold, brutality, insolence, mockery, bad manners, the intervention of others in their private lives.
Their strength is: the accumulation of inertness that can sweep all obstacles in their way, when they decide at last to be exempt from constraint, endured long time.
Tip: to avoid too persistent love.