Gemini zodiac sign
Gemini zodiac sign description. Profile and features of the Gemini.
Gemini zodiac sign description and personality
Gemini are volatile, superficial, ingenious, inquisitive and love diversity. They are impatient and prone to disputes and criticism. Gemini zodiac sign doesn't like solitude.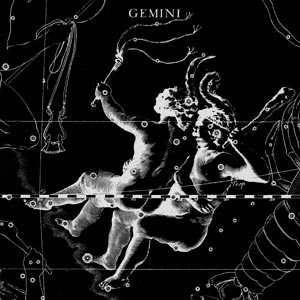 Gemini zodiac sign profile
Sun is in Gemini: from May 21 to June 21
Zodiac symbol: Twins
Constellation: Gemini
Zodiac element: air
Zodiac quality: mobile
Domicile: Mercury
Exaltation: no exaltation
Detriment: Jupiter
Fall: no fall
Colors: yellow, violet, white
Numbers: 2, 6, 7, 9
Day: Wednesday
Gems: agate, amethyst
Metals: gold, silver, mercury
Crucial years: 7th through 7 (7, 14, 21 ...)
Motto: "I think"
Fateful mission: to learn to adapt. To establish contacts with people and between people. To detect contradictions in themselves and to balance them. To show consistency in feelings, thoughts and actions. Do not sit on two chairs simultaneously.
Country: Australia, Wales, Scotland, Ireland, England
Unfavorable partnerships: Virgo, Pisces, Sagittarius, Scorpio
Loves: sound, change, travel, verbal jousting, company and contact with the outside world, speed, modern, elegant.
Hates: permanence, dogma, final response, loneliness, reflection
Their strength is: adaptability, manifestation of thin mind, tact and skill. They often work several jobs or deal with several different things.
Tip: to bridle his temper, to have more confidence in themselves and to require more persistence to achieve goals.