Scorpio zodiac sign
Scorpio zodiac sign description. Profile and features of the Scorpio.
Scorpio zodiac sign description and personality
Scorpio are persistent, energetic, magnetic, secretive, relentless. They have the tendency to be: vengeful, sarcastic, heroic, persuasive, roughly frank, determined, suspect. Some of the interests of Scorpio zodiac sign are: sex, revelation of mysteries, the money of others, desire to play the role of the invisible force.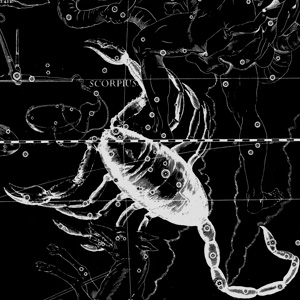 Scorpio zodiac sign profile
Sun is in Scorpio: from October 24 to November 22
Zodiac symbol: Scorpion
Constellation: Scorpio
Zodiacal element: water
Domicile: Pluto, Mars
Exaltation: Uranus
Detriment: Venus
Fall: Moon
Zodiac Quality: immobile
Colors: crimson, indigo, black
Numbers: 5, 13
Day: Tuesday
Gems: opal and granite
Metal: Iron and Steel
Crucial years: 4th through 7 (4, 11, 18 ...)
Motto: "I wish"
Fateful mission: Dynamic force persistence. To grant strength and courage. To see the danger in the face and not be afraid of it.
Country: Netherlands
Loves: their own power, to have rights and be entitled to retain the right to rule others, their own superiority, fight, disputes, gun and its use, hunting, the difficulty in victory, after they overcome it.
Hates: power outside themselves, superlative logic, cowardice, dependence (although they require it from the others), uninterrupted tranquility, lack of resistance, any foreign authority. Scorpio has the ability to hate well.
Their strength is: dynamic and expressed in the ability to obey the weak people to their will and the persistence with which they pursue their goals.
Tip: always operate in secret and beware of envy and rivalry, which could jeopardize your success.