Moon phase for 27 March 2014 Thursday
Moon phase, position of the lunar cycle, dates of full moon and new moon.
27 March 2014 Thursday
Time: 12:00
JD 2456744
Universal Coordinated Time
Casablanca, Monrovia
Lunar phase on 27 March 2014 Thursday is Waning Crescent.
The current moon phase is from 2014-03-24 02:47 to 2014-03-30 19:48.
The moon is in zodiac sign Aquarius

.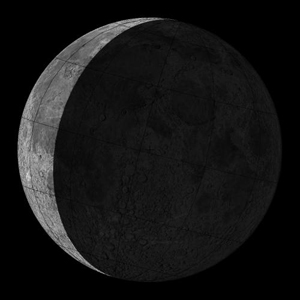 Moon phases from
the current moon cycle:

New Moon
on 2014-03-01 08:02
before 26.2 days

First Quarter
on 2014-03-08 13:27
before 18.9 days

Full Moon
on 2014-03-16 18:10
before 10.8 days

Last Quarter
on 2014-03-24 02:47
before 3.4 days

New Moon (next)
on 2014-03-30 19:48
after 3.3 days
The moon is growing smaller (old moon)
Fraction of the moon: 0.87690023171919
Illumination of the moon disk: 14 %
Moon angular diameter: 0.55 °
Sun angular diameter: 0.53 °
Moon distance:
364447.02 km
Sun distance:
149302415.74 km
Astronomical events for today: 27 March 2014
09:52:00 UTC: Venus 3.6°S of Moon
Moon phases for the days after 27 March 2014
For calculation of the lunar phase and the course of the moon through the zodiac is taken the moon fraction at 12 o'clock noon on the given date.
When crossing the zodiac from one zodiac sign to another, often for a short time Moon is Void of course moon. This phenomenon is not marked in the table above.
From New moon to Full moon the Moon is growing bigger (young moon), and after Full moon it is growing small (old moon).
The time the Moon makes a complete orbit around the Earth (sidereal period) is 27.321661 days. The time between two consecutive New moon phases is 29.53058867 days.