Moon in zodiac sign of Aquarius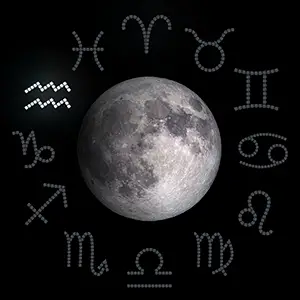 Moon in
♒ Aquarius
Moon in Aquarius is a time, when lunar sky path is crossing the eleventh sector of the zodiac - between ∠300°-330°, where is located the constellation of Aquarius.
Waxing Moon visits Aquarius zodiac sign only in the period from August to February and Waning Moon transits Aquarius only from February to August.
New Moon or Full Moon in Aquarius
New Moon and Full Moon in Aquarius is time to find some balance between your personal interest and the sacrifices you make to get in the others focus.
When is New Moon in Aquarius?
New Moon in Aquarius may occur only in the end of January and in the beginning of February, when the Sun is in Aquarius zodiac sign too.
When is Full Moon in Aquarius?
Full Moon in Aquarius may happen only in the end of July and in the beginning of August, when the Sun moves in Leo, the zodiac sector opposite to Aquarius.
Moon in Fixed sign Aquarius
The Moon is in Fixed zodiac sign Aquarius. When the Moon transits Fixed Modality sign, emotions are ruled by the sense of security and stability. It is difficult to escape or change the current mental state.
Moon in Air sign Aquarius
The Moon is in Air zodiac sign Aquarius. When the Moon transits Air Element sign, emotions search an expression and need to be analysed. Sometimes is better to not let them out, but ignore them, even when it is very difficult to be done.
Aquarius and Leo Sun signs
When the Moon transits Aquarius zodiac sector, people born in Sun sign of Aquarius have their good time, but born in its opposite zodiac sign Leo have to be cautious, because it may be much harder for them.
New and original
With the Moon transiting Aquarius rises the interest in everything new and unconventional. This days your head gets congested of original ideas. Do not be surprised if people around you act selfish.
Work
Moon in Aquarius days will give you extra focus on social, science and intellectual work. Very good time for activities in the area of psychology, sociology, new technology, inventions, astronomy and astrology. Be careful when handling electrical appliances. Do not refuse help.
Family and friends
When the Moon transits Aquarius some friends may become more important than the relatives. Sympathy, affection and care to non-relative people may get ahead of the family.
Health
Moon in Aquarius is favourable time for any treatment or diet related to the endocrine system. It is better to avoid surgical intervention in the area of the veins and lower legs.
Moon in zodiac signs
Current web page, "Moon in Aquarius" is a part of Moon in zodiac signs section of Lunaf.com. You may want to visit previous or next page too: