Moon in zodiac sign of Capricorn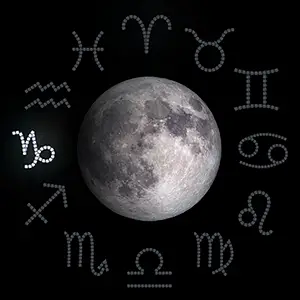 Moon in
♑ Capricorn
Moon in Capricorn is a time, when lunar sky path is crossing the tenth sector of the zodiac - between ∠270°-300°, where is located the constellation of Capricorn.
Waxing Moon visits Capricorn zodiac sign only in the period from July to January and Waning Moon transits Capricorn only from January to July.
New Moon or Full Moon in Capricorn
New Moon and Full Moon in Capricorn is a good time to balance between home and career. Finding the quickest way to your nearest state of security is a key to positive emotions.
When is New Moon in Capricorn?
New Moon in Capricorn may occur only in the end of December and in the beginning of January, when the Sun is in Capricorn zodiac sign too.
When is Full Moon in Capricorn?
Full Moon in Capricorn may happen only in the end of June and in the beginning of July, when the Sun moves in Cancer, the zodiac sector opposite to Capricorn.
Moon in Cardinal sign Capricorn
The Moon is in Cardinal zodiac sign Capricorn. When the Moon transits Cardinal Modality sign, emotions are very impulsive and often cause direct actions and rash reactions. Emotional extremes are easy reachable.
Moon in Earth sign Capricorn
The Moon is in Earth zodiac sign Capricorn. When the Moon transits Earth Element sign, emotions tend to be palpable and real. They need special time to deal with them, sometimes with the help of the others.
Capricorn and Cancer Sun signs
When the Moon transits Capricorn zodiac sector, people born in Sun sign of Capricorn have their good time, but born in its opposite zodiac sign Cancer have to be cautious, because it may be much harder for them.
Concentration and control
Moon in Capricorn forces prudence and conservatism in our daily live. The increased concentration, followed by impersonal thinking, lead to great self-control and strong self-discipline.
Plan it and action
Favourable time to finish clean and up the things, you have already started long time ago. Carefully plan it and then begin the hard and continuous work. Focus on the points of your step-by-step plan to achieve more secure and stable heading to the desired final.
Responsibility and order
Armour current responsibility peak, with the perseverance and patience coming from the Moon in Capricorn moment. It will feed your ambition of keeping the order, already set by you. Be careful of conflicts with forces and authorities. Do not borrow money, but wait few days.
Work
Moon in Capricorn is not the best time to start a new job. The strength of this sign are activities requiring higher concentration and organizational work. Propitious days for building and construction works, stone crafting, sale or trade of real estate properties and agricultural land.
Family and friends
When Moon transits Capricorn, try to benefit of building bridges to other generations and especially relations to older influential people. You may experience some tenderness in the family relationships. Do not let your moments of conservatism and self-isolation to obstruct relations with friends and relatives. Avoid being too rigid.
Health
Be aware colds and skin diseases. Fatigue in the area of the knees is very common. It is better to avoid surgical intervention of the knees, joints and bones.
Moon in zodiac signs
Current web page, "Moon in Capricorn" is a part of Moon in zodiac signs section of Lunaf.com. You may want to visit previous or next page too: