Moon in zodiac sign of Leo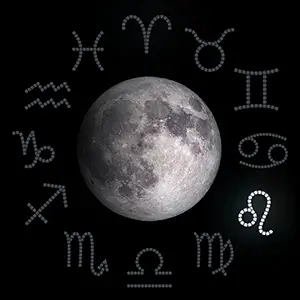 Moon in
♌ Leo
Moon in Leo is a time, when lunar sky path is crossing the fifth sector of the zodiac - between ∠120°-150°, where is located the constellation of Leo.
Waxing Moon visits Leo zodiac sign only in the period from February to August and Waning Moon transits Leo only from August to February.
New Moon or Full Moon in Leo
New Moon and Full Moon in Leo is time to find some balance between your personal interest and the sacrifices you make to get in the others focus.
When is New Moon in Leo?
New Moon in Leo may occur only in the end of July and in the beginning of August, when the Sun is in Leo zodiac sign too.
When is Full Moon in Leo?
Full Moon in Leo may happen only in the end of January and in the beginning of February, when the Sun moves in Aquarius, the zodiac sector opposite to Leo.
Moon in Fixed sign Leo
The Moon is in Fixed zodiac sign Leo. When the Moon transits Fixed Modality sign, emotions are ruled by the sense of security and stability. It is difficult to escape or change the current mental state.
Moon in Fire sign Leo
The Moon is in Fire zodiac sign Leo. When the Moon transits Fire Element sign, emotions search expression in a creative way. Best way for a person to deal with his different mental states is alone, by himself.
Leo and Aquarius Sun signs
When the Moon transits Leo zodiac sector, people born in Sun sign of Leo have their good time, but born in its opposite zodiac sign Aquarius have to be cautious, because it may be much harder for them.
Attention and attraction
Drawing attention to ourself becomes so important, that is difficult to notice the others need to attract attention too. Our pride grows the same speed like our search for the focus of the lights does.
Notice and recognition
Where is the recognition that all your qualities deserve? To find your answer, do things that have to be noticed and you will be proud of. This can be the easy and sure move to attract the crowd.
Beauty and creativity
Moon in Leo brings with it the search for beautiful. People get full of desire to create, to build and to highlight the unique and the incredible.
Work
When the Moon transits Leo zodiac sector, it is generous time to exercise activities, requiring creative thinking and some artistic touch. Leaving of the proud, trying to focus out of yourself and paying some attention to the qualities of the others, may help you fulfil the goals.
Joyful and cheerful mood
Very favourable time to spend with children, playing games or enjoying cinema and circus. When the Moon is Leo, visits of museums, exhibitions, theatres and clubs will give you extra pleasure. You may try to engage your increased creativity and cheerful feel in some home decoration and house arrangement too.
Health
Moon in Leo makes hearth-overloading easy, so do not push it too much. This is great time for relaxation. Haircut when the waxing Moon is in Leo, will make your hair grow faster like a lions mane. Surgical interventions in the areas of heart, rib cage and back are not recommended.
Moon in zodiac signs
Current web page, "Moon in Leo" is a part of Moon in zodiac signs section of Lunaf.com. You may want to visit previous or next page too: