Moon in zodiac sign of Libra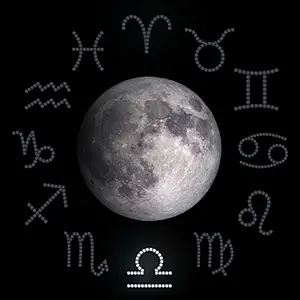 Moon in
♎ Libra
Moon in Libra is a time, when lunar sky path is crossing the seventh sector of the zodiac - between ∠180°-210°, where is located the constellation of Libra.
Waxing Moon visits Libra zodiac sign only in the period from April to October and Waning Moon transits Libra only from October to April.
New Moon or Full Moon in Libra
New Moon and Full Moon in Libra is a good time to balance your personal requisites and the needs of people closest to your everyday live.
When is New Moon in Libra?
New Moon in Libra may occur only in the end of September and in the beginning of October, when the Sun is in Libra zodiac sign too.
When is Full Moon in Libra?
Full Moon in Libra may happen only in the end of March and in the beginning of April, when the Sun moves in Aries, the zodiac sector opposite to Libra.
Moon in Cardinal sign Libra
The Moon is in Cardinal zodiac sign Libra. When the Moon transits Cardinal Modality sign, emotions are very impulsive and often cause direct actions and rash reactions. Emotional extremes are easy reachable.
Moon in Air sign Libra
The Moon is in Air zodiac sign Libra. When the Moon transits Air Element sign, emotions search an expression and need to be analysed. Sometimes is better to not let them out, but ignore them, even when it is very difficult to be done.
Libra and Aries Sun signs
When the Moon transits Libra zodiac sector, people born in Sun sign of Libra have their good time, but born in its opposite zodiac sign Aries have to be cautious, because it may be much harder for them.
Harmony and balance
The Moon in Libra stimulates our desire for harmony and balance, while the sense of beauty, refinement and aesthetic increases. It is time of justice and impartiality.
Partnership and social relations
Calming social relations and behaviour may contribute to easy creating of new partnerships or extending the existing to higher levels.
Problem solving
When the Moon transits Libra zodiac sector, it is better to defer important decisions for later, but solutions to existing problems could be easy found. Both advantages and disadvantages would be noticed equally well.
Work
Social relations work and making of new business partners goes really well. Relationship with the management stay fair. Desire of justice and impartiality make this lawyers and judges time. This days are favourable and suitable for painters, art guides, sociologists, psychologists and public relations pros.
Family and intimacy
Family relationships flow in harmony and peace too. Mutual understanding with the intimate partner is better than usual. This is favourable time for beginning of a new romantic affair too.
Health
Excessive emotions in the time of Moon in Libra may lead to acid-alkaline disbalance and some kidney troubles. Surgical intervention in areas of kidneys, urinary bladder, pelvis and lower part of the spine have to be avoided and deferred for later.
Moon in zodiac signs
Current web page, "Moon in Libra" is a part of Moon in zodiac signs section of Lunaf.com. You may want to visit previous or next page too: